KEY PERSONNEL
John Lawrence
CEO
John Lawrence's earliest exposure to show business was as a stand-up comic under the tutelage of his close relative and mentor, Henny Youngman, "the King of the One-Liners." Henny believed John had true comedic talent and encouraged him to become a comedian and comedy writer, but John felt more of an urge for drama. John began studying in New York, establishing a background in acting, writing, directing, in both theater and elm.
John later migrated to LA, where he gained knowledge and experience in numerous moviemaking techniques, including lighting, directing, and special effects. He subsequently was involved in producing, writing, and directing a series of successful low-budget movies. As a result of his dedication to producing top-quality, successful motion pictures with modest budgets, John has often been referred to as "the King of Low Budget Movies."
John also became involved in the music industry, managing several recording artists, including the superstar rock group, Sly and the Family Stone. While managing "Sly," he wrote, produced, and directed a stereoscopic 3D movie, "A Day in the Life of Sly and the Family Stone." John became so fascinated with 3D that he spent thousands of hours over many years learning everything he could about it. Consequently, he developed numerous innovative ways to enhance stereoscopic 3D.
Using his knowledge of 3D, John wrote, directed, and co-produced the short stereoscopic 3D horror flick, "The Turning." As a result of the response to his pioneering stereoscopic 3D techniques, he planned to produce "The Turning" as a feature-length picture; however, the studios objected to the greater expense as a stereoscopic 3D picture at that time, because of the technical challenges encountered when exhibiting a stereoscopic 3D movie in a 2D theater.
Consequently, John undertook the task of inventing a 3D technology that would eliminate these barriers. He envisioned the day such as today, when 3D pictures could be shown in neighborhood theaters without incurring the greater expenses normally associated with exhibiting stereoscopic 3D movies.
Through experimentation and persistence, John developed a revolutionary, 3D that is capable of not only projecting 3D in motion pictures theaters without special screens and projection lenses but also of showing 3D on TV, computer, Blu-Rays DVDs. Using a patented single 3D system, that John invented, he produced and directed "Women's 3D Championship Wrestling" for pay-per-view TV, attracting a large Pay-Per-View 3D audience. John also produced and directed "The Anniversary of Rock-N-Roll in 3D," which was syndicated on TV in 3D. He has also produced music and fashion videos in 3D.
As an inventor and 3D patent holder, John holds (3) Patents in 3D optimization and will be utilizing his 3D technology to produce and direct 3D movies that can bring 3D to its next level.
Movies Written, Produced, and/or Directed By John Lawrence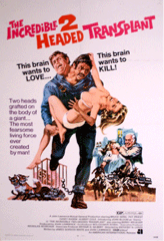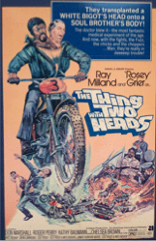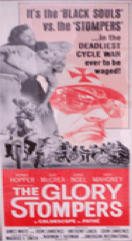 Tales of a Salesman
Produced and written by John Lawrence, with a budget under $100,000, this offbeat comedy was well received and considered an extremely effective piece of work for such a low budget movie.
The Glory Stompers
Produced and written by John Lawrence, with a budget of approximately $150,000, this movie starred Dennis Hopper. It was one of the largest grossing motorcycle pictures of its day.
The Incredible 2-Headed Transplant
Produced and written by John Lawrence, with a budget of $300,000, this horror/science fiction classic starred Bruce Dern and grossed many millions of dollars and is considered one of the best low budget campy- horror movies of all time. After all these years, The Incredible 2-Headed Transplant has become a cult classic and still plays on TV.
The Thing with Two Heads
With Executive Production by John Lawrence, this movie starred Ray Milland and Rosey Grier. Like "The Incredible 2-Headed Transplant," "The Thing with Two Heads" did extraordinarily well at the box office and continues to play on TV.
Free Grass
Produced, written and directed by John Lawrence, this movie starred Richard Beymer and Russ Tamblyn (both of West Side Story fame) and is considered the one of the best low-budget psychedelic movies of its time.
Savage Abduction
Produced, directed, and written by John Lawrence, this film was a motorcycle thriller that audiences loved and was produced for only $125,000.
​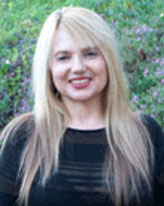 Linda Lukens
President
Linda Lukens has a diverse background in writing, video, technology, art, and 3D. Linda is involved in producing, directing, writing, and creating 3D special effects. She has written and sold screenplays and teleplays to both television and movie studios. Ms. Lukens was a co-founder and a producer of Victor Lukens Associates, a leading TV commercial and documentary company in New York City. She co-created the Environment Factory, which produced environmental shows utilizing space technology and vacuum metalization. Ms. Lukens co-invented a patented clock, The Space Clock, which displays a "new way" to tell time, through light and color.
Ms. Lukens has also produced and directed commercials, video projects and fashion videos. She co-produced and hosted "An In-Depth Look at the Law," a TV talk show. She produced, with John Lawrence, a short 3D featurette, the stereoscopic 3D film, "The Turning."
Ms. Lukens is an inventor and holds three patents in optical fields, inventing an enhanced optimization of 3D through camera technique, as well as an improved optical viewing system for 3D images with 3D glasses. Along with John Lawrence, Linda co-developed the LL3D technology, creating, producing, and editing groundbreaking 3D visuals.
Ms. Lukens received the "Created By" credit in the 22-episode, nationally syndicated and worldwide-distributed television series, "Queen of Swords."
A skilled producer, 3D editor, and writer, Ms. Lukens is working on writing and directing a series of 3D fairy tales for the video and DVD markets. Her vast experience qualifies her to create, edit, produce, and/or direct virtually any 3D project. At present, Linda is preparing to produce a 3D feature for the family market with John Lawrence.