Key Personnel
John Lawrence, CEO

John Lawrence began his career in the entertainment industry in New York City, where he established a background in acting, writing, directing, and producing in both theater and film. John left New York and went to Los Angeles to study acting with Brian Hutton, the famed director of Where Eagles Dare and Kelly's Heroes, for two years. During that time John gained knowledge and experience in moviemaking technique, lighting, camera angles, and special effects. When he felt the time was right John became involved in film making, producing, writing, and directing a series of successful low-budget movies. As a result of his dedication to producing successful movies with low budgets, John has often been referred to as "the king of low budget movies." During this period, John was also instrumental in initially putting together the film, Easy Rider, starring Dennis Hopper and Peter Fonda.
Next, John became involved in the music industry, managing many groups, including the superstar rock group, "Sly and the Family Stone." While managing "Sly," he wrote, produced, and directed a 70mm stereoscopic 3-D feature movie, A Day in the Life of Sly and the Family Stone. John became so fascinated with stereoscopic 3-D that he spent thousands of hours and many years learning everything he could about 3-D.
Using his knowledge of 3-D, John wrote, directed, and co-produced a short, stereoscopic 3-D horror flick, The Turning, that he planned to produce as a feature length 3-D movie. However at that time, the Studios objected to the great expense and technical challenges that would be incurred when releasing a stereoscopic 3-D motion picture to a 2-D movie theater.
To overcome this problem, Mr. Lawrence undertook the task of inventing a new 3-D technology that would eliminate these problems. John envisioned the day when 3-D films could be shown in 2-D movie theaters without the great expense associated with exhibiting stereoscopic 3-D movies in a 2-D theater.
Through experimentation and persistence, John finally developed and patented the revolutionary, LL3D single camera system. LL3D is capable not only of projecting 3-D motion pictures in theaters without special screens and projection lenses but also of showing 3-D on broadcast TV, computer screens, and in DVD formats.
Using LL3D, Mr. Lawrence produced and directed a 3-D music video, as well as "Women's 3-D Championship Wrestling" for Pay-for-View TV, which was released in LL3D and attracted a large Pay-for-View audience. In addition, John produced and directed "The Anniversary of Rock-N-Roll in 3-D," which premiered in Las Vegas and was syndicated on TV in LL3D throughout the U.S.A. John also produced and directed a 3-D children's video, "Goldilocks and the 3 Bears" that received critical acclaim and sold very well throughout the United States. Aside from his 3-D endeavors, Mr. Lawrence has written, produced, and directed over a hundred TV commercials.
As an inventor and 3-D patent holder, John will use his LL3D and state-of-the-art 3-D stereoscopic digital techniques to produce and direct his next feature 3-D movie, Fairy Tale Park 3-D.
Movies Written, Produced, and Directed By John Lawrence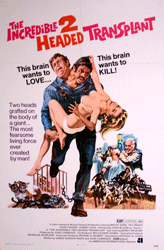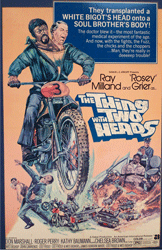 Produced and written by John Lawrence, with a budget under $100,000. This offbeat comedy was well received and considered an extremely effective piece of work for such a low budget movie.
The Glory Stompers
Produced and written by John Lawrence, with a budget of approximately $150,000. This movie starred Dennis Hopper and Casey Kasem. At the time, it was one of the largest grossing motorcycle pictures of its day.
The Incredible 2-Headed Transplant
Produced and written by John Lawrence, with a budget of only $300,000. This horror/science fiction classic, starred Bruce Dern and Casey Kasem grossed many millions of dollars and is considered one of the best low budget horror movies of all time. Even after all these years, The Incredible 2-Headed Transplant is still frequently shown on TV.
The Thing with

Two Heads
Executive Production by John Lawrence. This movie starred Ray Milland and Rosey Grier. Like The Incredible 2-Headed Transplant, The Thing with Two Heads did extraordinarily well at the box office and still plays on today's TV.
Free Grass
Produced, written and directed by John Lawrence This movie starred Richard Beymer, Russ Tamblyn, and Casey Kasem and is considered the best low budget psychedelic movie of its day.
Savage Abduction
Produced, directed, and written by John Lawrence. This was a motorcycle thriller that audiences loved and was produced for only $125,000.
Linda S. Lukens, President

Linda S. Lukens has a diverse background in writing, video, technology, art, and 3-D. Linda is involved in producing, directing, writing, and creating 3-D special effects. She has written and sold screenplays and teleplays to both television and movie studios. Ms. Lukens was a co-founder and a producer of Victor Lukens Associates, a leading TV commercial and documentary company in New York City. She co-created the Environment Factory, which produced environmental shows utilizing space technology and vacuum metallization. Ms. Lukens co-invented a patented clock, The Space Clock, which displays a "new way" to tell time, through light and color.
Her leading edge technology and designs have been displayed in museums and art galleries as well as being featured in such magazines as Newsweek, Vogue and House and Gardens, etc.
Ms. Lukens has also produced and directed commercials, video projects and fashion videos. She co-produced and hosted "An In-Depth Look at the Law," a TV talk show. She produced, with John Lawrence, a short 3-D featurette, the stereoscopic 3-D film, The Turning.
Ms. Lukens is an inventor and holds three patents in optical fields, inventing an enhanced optimization of 3-D through camera technique, as well as an improved optical viewing system for 3-D images with 3-D glasses. Along with John Lawrence, Linda co-developed the LL3D technology, creating, producing, and editing groundbreaking 3-D visuals.
Ms. Lukens received the "Created By" credit in the 22-episode, nationally syndicated and worldwide-distributed television series, "Queen of Swords."
A skilled producer, 3-D editor, and writer, Ms. Lukens is working on writing and directing a series of 3-D fairy tales for the video and DVD markets. Her vast experience qualifies her to create, edit, produce, and/or direct virtually any 3-D project. At present, Linda is preparing to produce Fairy Tale Park 3-D with John Lawrence.
Sean Li, Executive Vice President

Mr. Li brings to 3-D Entertainment Media, LLC, a winning background of diverse personal and professional

skills. He exhibits his entrepreneurial spirit through innovative dynamic leadership in planning, delegating, driving productivity, and enhancing profitability, through his national and international marketing expertise. As Vice President of Shimiben International, Henry launched the company in 1988 and developed its comprehensive project management, from land acquisition to creative construction in a myriad of successful real estate ventures.
Among other things, Mr. Li has been instrumental in the formation and development of several successful on-going

enterprises, structuring and personally implementing distribution expansion depots throughout

Taiwan
,
Hong Kong
and
Thailand
, etc
. Henry met and teamed up with John

Lawrence of 3-D Entertainment Media and will add his skills to promote the on-going growth of 3-D Entertainment Media in
China
, through opening marketing and technology. Henry will help
bring 3-D Entertainment Media's technology to its next level of success. Henry currently heads up 3-D Entertainment Media's International marketing of 3-D products and is in the process of opening up many new doors to the
Far
East
that will help propel 3-D Entertainment Media into the global market place.
Mickey Blowitz, V.P. in Charge of Production

Mickey Blowitz has been in show business for the past 35 years. He started as an agent handling writers, actors and all kinds of production personnel. Mr. Blowitz has worked for some of the top theatrical agencies in the entertainment industry such as International Famous Agency (IFA) and International Creative Management (ICM). After years of outstanding work, Mickey was elevated to the position of a motion picture packager. Some of the films he helped put together are Cracking Up and Hardly Workin" starring Jerry Lewis. He also had a hand in packaging Harold and Maude with Ruth Gordon and Bud Cort, Ruthless People starring Danny Divito and Bette Midler, and Brubaker with Robert Redford. Eventually, Mickey formed his own theatrical agency handling talent of all kinds. Mr. Bowitz then involved himself in the production and intricacies of film producing, eventually becoming an independent filmmaker. He went on to produce many low budget movies such as Gemini Affair starring Marta Christian and Kathy Kursch, and Devils Times 5 with Leif Garrett. These films were released in the major film markets. Mr. Blowitz, with an exemplary reputation, has remained in contact with many of the actors, writers and production crews that have worked for him. He is a firm believer in LL3D and its cutting-edge 3-D technology. With Mickey's vast experience he can be of great help in producing and putting together a low budget 3-D film of FTP.